INTERNATIONAL FESTIVAL OF OUTDOOR FILMS
The International Festival of Outdoor Films (IFOF) is a competitive touring cine-meeting of outdoor films. Within last fivteen years it has become one of the largest touring festivals in the World. In 2017 IFOF visited 54 places in Czech and Slovak Republic.
IFOF focuses on sport and outdoor, adventure, extreme, adrenalin and travel film.Including fim authors from around the world (film studios, national and private TV companies, on both professional and amateur level). IFOF films transports us to various places of our planet. Outdoor film documentaries show unique and unrepeatable real-life experience.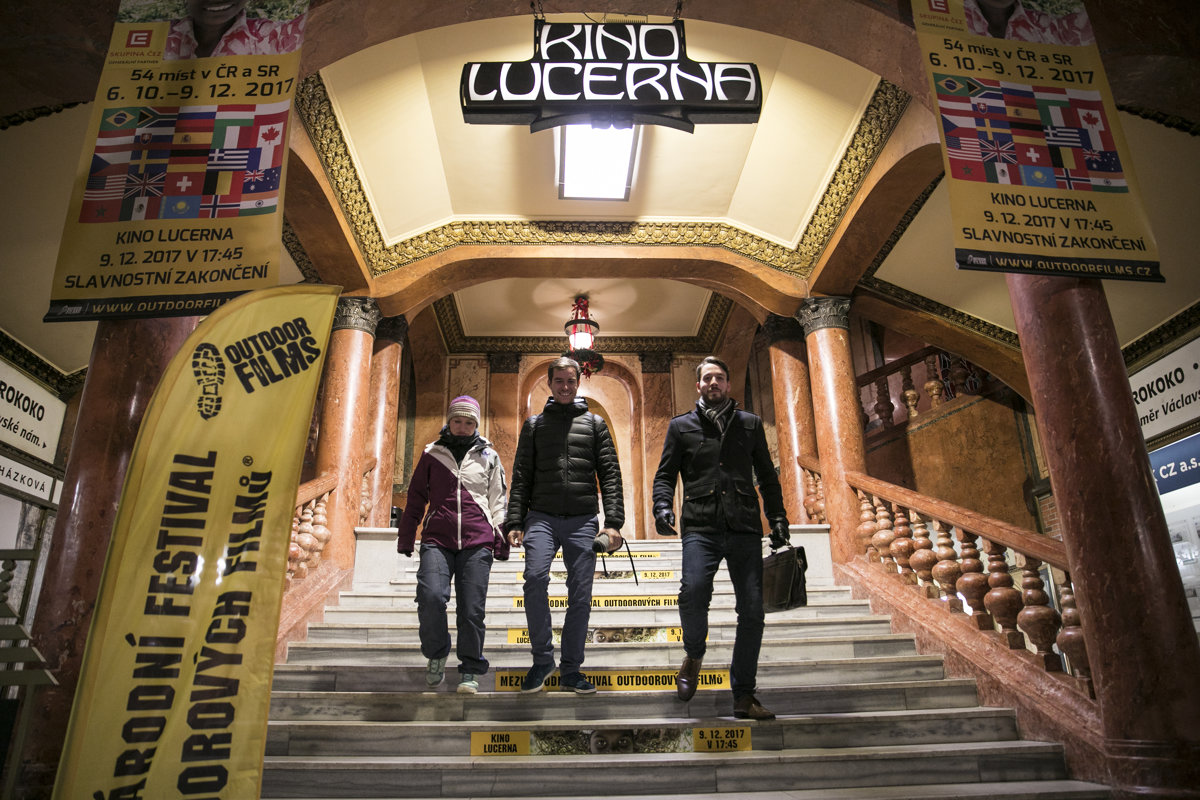 IFOF has four competition categories:
A) adventure and extreme sport film – (except climbing, mountaineering and water sports), skiing, extreme skiing, bikes, paragliding, speleology etc.
B) climbing and mountaineering film – climbing sports, mountaineering expeditions, climbing on ice, polar expeditions, mountain landscape, man and mountains.
C) adventure water sport film – rafting, water sports, kayaking, canoeing, yachting, diving, surfing, long-distance swimming, underwater speleology etc.
D) Travel film
N) non competitive film
Films are not limited by lenghth or year of production!
History of the Festival
IFOF was founded in 2003 by Travel Agency Turistika a Hory s.r.o., the main organiser and producer untill 2009. In 2010 the company OUTDOOR FILMS s.r.o was established and took the Festival under it´s wings. Together with other promoters involved in each of the towns we prepared an exceptionally wide project. OUTDOOR FILMS s. r. o. was nominated for Best enterpreneur of Czech Republic Award in 2007, 2008 and 2009.
IFOF started in 3 Czech towns. 15 years later, thanks to the support of towns, regions and partners of IFOF spread to 54 places in Czech and Slovak Republic. Number of visitors increases each year. More than 600 visitors enjoy the opening ceremony in Ostrava each year.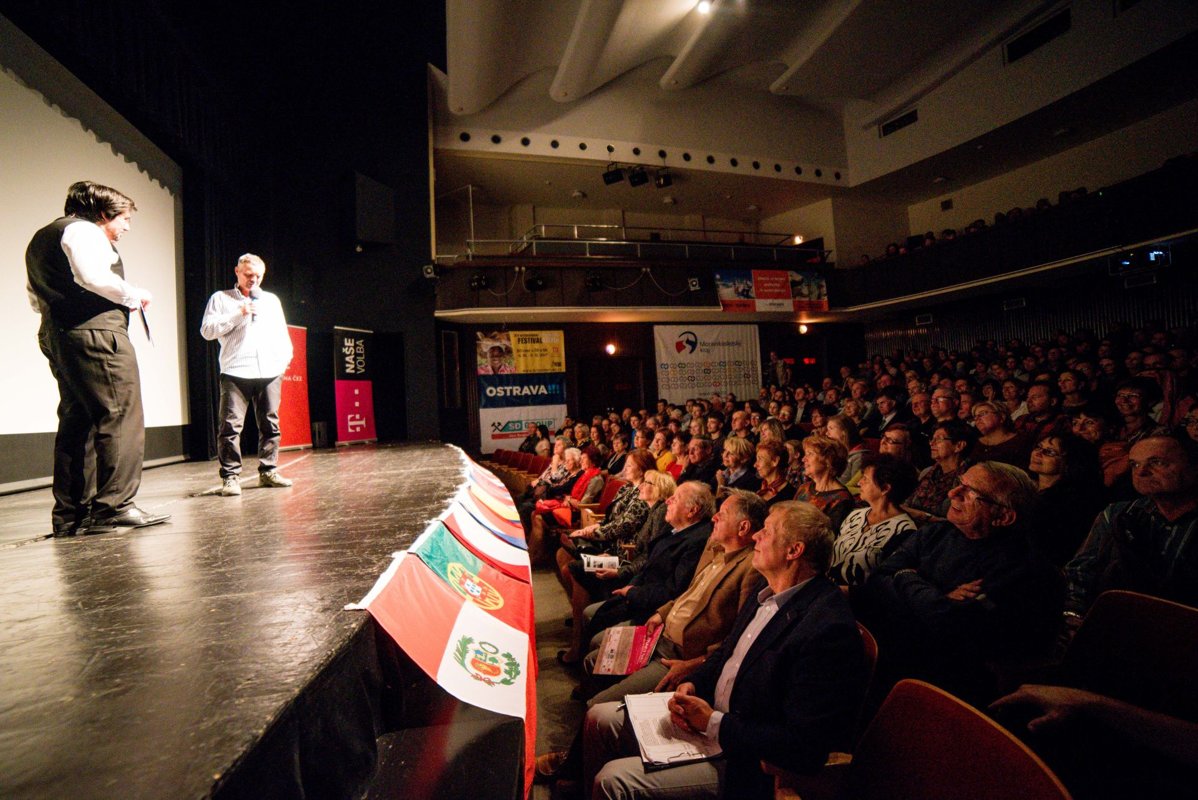 Past and current partners of IFOF
Media partners support:
Czech TV, TV Noe, TV Polar, TV Severka, TV Vega, Czech Radio, MF Dnes, Deník, Cinema, Respekt, Koktejl, Lidé a země, Montana, Centrum.cz, SMS.cz, HoryDoly.cz, Adrex.cz, fdb.cz and many more.
IFOF has been supported by many prestigious companies:
ČEZ, T-Mobile, ŠKODA AUTO a.s., DSB EURO s.r.o., HUDY a.s., Intercora spol. s.r.o., Warmpeace a.s., Sanofi Pasteur s.r.o., PICOLLO s.r.o. - LOAP, CK NEV DAMA a.s., Czech Tourism, Salomon, AUTHOR, STUDENT AGENCY s.r.o., Central Connect Airlines, Czech Railways, ADIDAS, Budweiser Budvar, Land Rover, Rituall and many others.
Film-makers and guest participation
Each year, film-makers, directors and producers from countries of various continents – Czech Republic, Slovak Republic, Poland, Hungary, Austria, Switzerland, Germany, Belgium, France, Spain, Great Britain, Sweden, Norway, Russia, Croatia, Slovenia, Turkey, Kenya, Guatemala, USA, Canada, Brazil, Peru, Chile, Venezuela, Columbia, Japan, the Philippines, Indonesia and India, Australia and New Zealand, etc.Many celebrities of sport, cultural and political life have been involved in the festival, for example mountaineering celebrities like Ivan Gálfy, Leopold Sulovský, Radek Jaroš, Libor Uher, the Mayor of the City of Prague Pavel Bém, Marek Holeček, Klára Kolouchová, Anna Hanuš Kuchařová, reporter of Czech Radio Lucie Výborná, olympians and sportsmen L. Pollert, Š. Hilgertová, T. Kraus, I. Bugár, J. Dressler, legendary traveller M. Stingl, actors and singers O. Kaiser, P. Liška, J. Lábus, P. Vondráček, Oscar awarded director J. Menzel, actor Ladislav Frej, director and member of the festival´s jury Karel Janák, director Václav Marhoul, actor Pavel Nový, speakers Vladimír Čech, Pavel Anděl Petr Horký, and many others.